Chief Development Officer
December 2023 | Copake, NY
Download PDF
Camphill Village Copake seeks a mission-driven Chief Development Officer to lead the philanthropic and external communications programs and set strategy to drive transformational philanthropic growth for both the Village and its partner community, Camphill Ghent.
About Camphill Village Copake
The founding of Camphill Village in 1961 was part of a transformative movement in the United States to reform how society treats people with developmental disabilities. Today, Camphill Village Copake is a 501c3 non-profit organization providing a non-institutionalized approach to care in fulfillment of our mission: to be an integrated community where people with developmental differences are living a life of dignity, equality, and purpose.
On our 750 acres of wooded hills, gardens, and pastures in New York's beautiful Hudson Valley, adults with developmental disabilities, students, and long- and short-term service volunteers live and work together as equals in extended family homes throughout our closely knit community. Camphill Village is home to roughly 230 peers of all abilities, cultures, and gifts who choose to live in this peaceful, rural setting. Here, residents cultivate enriching spiritual lives and endeavor toward a world that recognizes the inherent potential in every human being.
Camphill Village and Camphill Ghent are a part of the Camphill Association of North America (CANA) and the worldwide Camphill Movement, which continues to inspire more 100 communities around the world. Through artisanal crafts, biodynamic agriculture, and shared responsibilities within the household, we fill our days with meaningful activities that benefit all members of our integrated community. Valuing a person's choice to establish a rewarding life in Camphill Village aligns with our pursuit of equity for our community members with disabilities, all of whom have rights to choice, participation, and self-determination.
For more information about Camphill Village Copake, please visit camphillvillage.org
About Camphill Ghent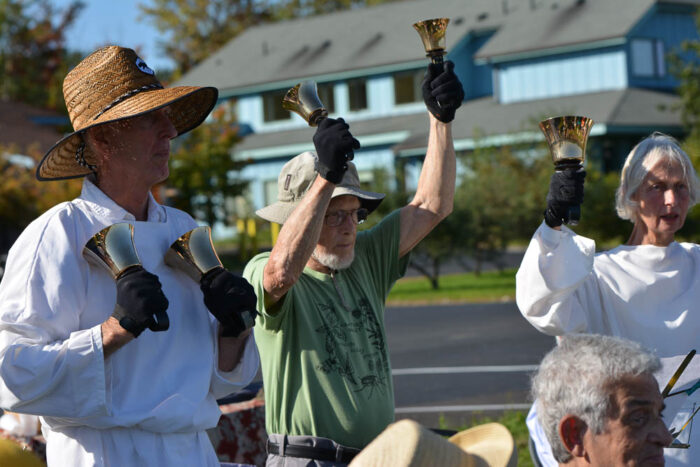 Camphill Ghent serves the needs of elders in home settings within an inclusive community so that they may continue to experience lives of wellness, dignity, joy and fulfillment. Camphill Ghent strives to give every member of its community the opportunity to both contribute to and benefit from the experiences and endeavors of others through caring for the body, soul and spirit. Residents of Camphill Ghent take pride in creating a community where elders feel enthusiastic about life as they enjoy beauty, art, learning and friendships.
Camphill Ghent offers both Independent and Assisted Living, and is shaped and shared by service volunteers and their children, and their committed, caring staff. Wonderful friendships, mutual support and shared participation in activities and events create a tapestry in which human interest and kindness are unifying threads. These elements contribute to Ghent's mission to care for, celebrate, embrace, and honor the special strengths and needs of each individual.
Each day offers opportunities for socializing and relaxation; residents of all abilities and staff enjoy wholesome family-style dining and a daily schedule of activities in our welcoming common areas. The friendships and conversations that are the building blocks of this vibrant community flourish in these spaces, where we also host concerts, plays, lectures, choir, art exhibits, and celebrate seasonal festivals. Whether enjoying a stroll in our beautiful gardens, pathways, and fields; joining our choir, book club or painting; participating in our fitness programs; summer swimming in our outdoor pool; or playing tennis with a buddy, there's something for everyone to keep their body—and mind—in shape at Camphill Ghent.
For more information about Camphill Ghent, please visit camphill.org/communities/camphill-ghent
About Philanthropy at Camphill Village Copake
Camphill Village Copake's $12M annual operating budget is primarily funded through government grants, endowment income, and private philanthropy. Last year, Camphill Village Copake raised more than $3.5M in unrestricted support from more than 1,400 donors among a donor community of 3,500.
Camphill Ghent's philanthropy program is nascent and poised for significant growth in the coming years.
Over the decades, these two Camphill communities have also grown their robust endowment through a well-established legacy giving program.
This year, the communities are embarking on a strategic and master planning process. The strategic plan's primary focus will be to position them to meet the current and future needs of its aging population by providing more innovative and integrated elder care. In addition to public funding opportunities, realizing this vision will necessitate significant philanthropic resources. The Camphill communities will begin campaign planning shortly after the strategic and master planning processes are complete.
About the Opportunity
The Chief Development Officer (CDO) will lead an ambitious and growth-oriented comprehensive fundraising program, including annual giving, major and planned giving, institutional giving, and marketing and communications. An outward facing fundraiser, the CDO will focus on identifying, cultivating, and soliciting major and planned gifts to meet and exceed annual goals and grow the donor and prospect base to position the Camphill communities for future campaign success.
The CDO will be experienced in building, mentoring, and managing highly effective teams and will oversee four staff members including the Director of Development, Ghent; Assistant Director of Development; Communications and Public Relations Manager; and Development Operations Manager. To achieve ambitious fundraising goals, the CDO will also partner closely with Camphill's Development Committee, Focus Group, executive leadership, and other internal community members.
The CDO will join the Camphill communities at an exciting and pivotal time and will play an integral role in the present and future of the organization. The successful candidate will be a strategic, creative team leader who is visionary about their fundraising potential and who can support leadership's strategic plan by maximizing opportunity. They will align all elements of fundraising and communications functions with the vision, core values, and culture of Camphill. Highly ethical, they will possess outstanding interpersonal competencies, effectively engage and collaborate with all members of the community, and be adept at consensus building. The most qualified candidates will bring passion for and the ability to speak authentically about the mission and have experience serving the special needs and/or elder communities. In alignment with the culture of the Camphill communities, it will be important for candidates to be interested in working on site, with some hybrid flexibility possible.
Key Responsibilities
 Leadership
Partner with leadership to ensure that fundraising priorities and goals align and support Camphill's strategic priorities.
Support the Development Committee and participate in Board recruitment and engagement upon request.
Oversee, mentor, and motivate team members, and draw upon their potential and talent, individually and collaboratively. 
Participate in organizational strategic and master planning to ensure the process and outcome is informed by the donor viewpoint and philanthropic opportunity.
 Fundraising
Design and implement a plan for a comprehensive and fully integrated fundraising program, identifying growth potential, maximizing opportunity, and leading all facets of development.
Serve as chief fundraiser; manage a portfolio of major and planned giving prospects and solicit and close gifts of 5, 6 and 7-figures.
Partner with and support leadership in their donor-facing activities.
Monitor and report on fundraising achievement and activity metrics.
Instill best practice infrastructure, including systems, policies, and procedures to ensure effectiveness and accountability across the program.
External Relations
Oversee a strategic communications plan to advance their integrated brand identity, broaden awareness of its programs and priorities, and increase the visibility of its impact across key stakeholder audiences, both internal and external.
Develop and ensure consistency of messaging across organization.
Serve as a spokesperson for the organization.
Partner with leadership to build and grow relationships with local, state, and federal elected officials and provide tactical support in securing funding as needed.
Key Qualifications
Authentic commitment to Camphill's mission and ability to articulate the case for support.
10+ years of development experience, with a minimum of 5+ years in leadership roles.
Demonstrated record of closing 6 and 7+ figure gifts, campaign experience preferred
Expertise in communications and external relations.
Previous success partnering with leadership and internal stakeholders.
Highly developed writing and public speaking skills.
Solution-oriented, self-motivated, strategic, analytical, and organized with high level of accountability.
Team player with an ability to communicate positively, effectively motivate, and gain consensus.
Highly ethical and aligned to community values.
Previous experience serving the special needs and/or elder communities preferred.
Some weekend and after-hours work should be expected.
All qualified candidates will receive consideration for employment without regard to race, color, religion, sex, national origin, disability, veteran status, or any other characteristic protected by law.
Compensation
The salary range for this position is $135,000 – $165,000 annually, commensurate with experience.
If you are interested in being considered for this search, please use the form below to submit your cover letter and resume in confidence.
Tara DiDomenico
Senior Consultant
Development Guild DDI