Director of Constituent Engagement and Leadership Annual Giving
December 2023 | Southborough, MA
Download PDF
St Mark's school seeks a Director of Constituent Engagement and Leadership Annual Giving to lead relationship building, fundraising and growth for an ambitious next chapter of increased fundraising and engagement at the school.
About St Mark's School
The school's diverse and talented student body is composed of 375 boarding and day students from 24 states across the United States and 10 countries around the world. Students benefit from intellectually and academically rigorous curriculum, a small class size, and a 6:1 student-faculty ratio. The school's curriculum is based on the philosophy to advance three core values: intellect, character, and leadership, while also learning the skills to become curious, well-rounded, and responsible citizens of the world.
This framework isn't limited to the classroom; it extends to a student's life in the dorms, on the athletic fields, and through leadership opportunities, experiential and community engagement. St. Markers are prepared to make a meaningful difference in whatever arena they choose to focus their energy and talents in.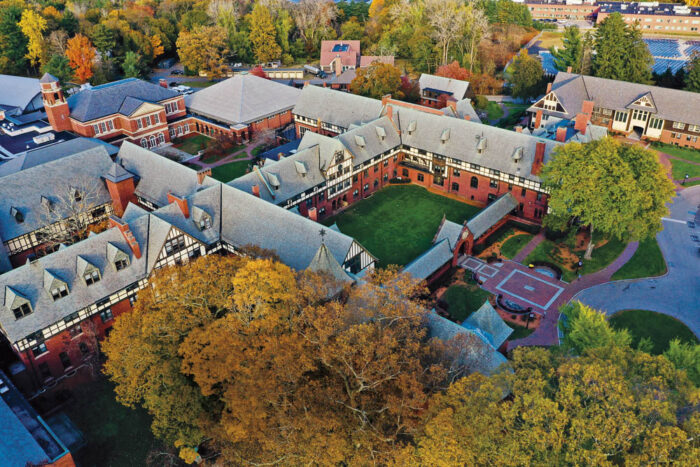 St. Mark's remains affiliated with the Episcopal Church; however, the community embraces students, faculty, and staff from all faith and non-faith traditions, encouraging and supporting them in religious and spiritual diversity. The school's required twice-weekly interfaith chapel service is a place to build and foster unity and respect across the school. Faculty and administrative staff are encouraged to share dining hall meals with faculty and students and attend sporting events, student performances, and other campus-wide events so they may be fully integrated in the St. Mark's community.
St. Mark's commitment to community and equity is integral to its mission of encouraging curiosity, self-reflection, personal development, and service. The school has made great strides to go beyond the surface to address social, racial, and ethnic injustices through investing in counseling and mental health services for students from underrepresented groups, establishing professional development trainings for faculty, staff, and alumni, and through a Community and Equity strategic plan driving change in the St. Mark's community. Additionally, the Admission team is focused on establishing a new, more inclusive rubric and open-ended essay questions about lived experiences as part of their admissions process.
About Philanthropy at St. Mark's
On October 1, 2022, St. Mark's proudly celebrated the close of the Lives of Consequence campaign, the most ambitious in the school's history, raising more than $112 million and beating the goal of $110 million. The most recent and most financially ambitious project of the campaign was the addition of a new $40-million, state-of-the-art residence hall named Patterson-Sculley House, which opened in the fall of 2022. This dramatic new residence hall unites the West Campus to the main campus, putting all of St. Mark's boarding students once again "under one roof" on the main campus. Other priorities that were funded by the campaign included a state-of-the-art STEM Building, the Weidergott Fitness Center and weight room, and the Alice Hung '86 East Wing Gallery which doubles as a new entrance to the main building and includes a beautiful patio, pathway and connecting quad to the two dorms adjacent to it.  Finally, the campaign funded a complete renovation of The Burgess Center for Teaching and Learning, at the heart of the school and a true academic and social "hub" for the entire school.  Each of these campus additions and enhancements has greatly improved the lives of students and faculty in providing a first-class education at St. Mark's.  The campaign also provided impactful funding for endowment for financial aid and faculty compensation.
The St. Mark's Annual Fund has remained robust throughout the past decade and the campaign and continues to provide a critical 10% of the annual operating budget.  In 2022-23, the Annual Fund exceeded its goal, finishing at $2,665,598.  Annual giving at St. Mark's is nearly equally divided between parents and alumni.  In 2022-23, 67% of parents gave to the Annual Fund, and 20% of alumni participated.  Clearly, alumni participation is a challenge and an opportunity, and we feel there is great potential in the younger alumni population to move this needle.
The School is currently in-between strategic plans and anticipating our new head of school to arrive on July 1, 2024, to begin a new strategic planning process.  In this interregnum year, the Advancement team has a moment to focus on the Annual Fund, retool our major gift portfolios, engage in many cultivation and stewardship visits to identify and qualify prospects, and build the team that will engage with our new head and the next campaign.  It's an exciting time to join St. Mark's!
About the Position
The Director of Constituent Engagement and Leadership Annual Giving (Director) will report to the Chief Advancement Officer, Beatrix Sanders and will serve on the senior team in the Advancement Office. The Director will supervise 4 staff: the Director, Engagement and the Annual Fund; Associate Director, Engagement and the Annual Fund; Assistant Director, Engagement and the Annual Fund;  and the Advancement Communications Manager.
The Director will be responsible for the vision, design, planning, and implementation of programs that build and strengthen alumni and parent relations and assist in securing financial resources to extend the reach and influence of the school. A key role will be paying significant attention to developing and maintaining a strong volunteer network of class agents, reunion committees, and parent volunteers. ensuring the development of deep, long-lasting relationships between St. Mark's School and its 4,400 alumni and 385 current families through philanthropy, engagement and volunteerism.
Key Responsibilities
Provide strategic oversight of the school's suite of events, strategies and communications to increase engagement (friend-raising) and annual fund support (fundraising) from alumni, parents and other constituents.
Supervise the Engagement & Annual Fund team and Advancement Communications Manager
Provide oversight of the Annual Fund, in partnership with the School's Director, Engagement & the Annual Fund, soliciting trustees, alumni and parents for leadership gifts via email, direct mail, and in person.
Manage a portfolio of 50-75 high leadership annual fund prospects and capital donors with a goal of 5-6 visits per month. Meet with additional constituents for purposes of volunteer recruitment and stewardship purposes.
Provide support to the major gifts team and Chief Advancement Officer regarding alumni and parent giving; regularly identify and qualify alumni and parent prospects for major gift cultivation.
Work cooperatively with the Advancement Communications Manager to develop effective communications including event invites, e-newsletters and content for online communications.
Manage 1-2 Reunion Committee drives.
Oversee the Associate Director, Engagement and Annual Fund in running Reunion Weekend and Family Weekend at the school. Work with Class Agents/Reunion fundraising volunteers to plan and organize milestone reunion celebrations and fundraising initiatives.
Strategize and plan annual initiatives of the Parent Leadership Circle; a newly established program for parents giving at the 5-figure level.
Serve as lead staff to the Alumni Executive Committee, the school's graduate council, ensuring strong and productive relationships between members and institutional leadership. Work closely with the Director, Engagement and Annual Fund, with this committee's work.
Plan and direct an annual volunteer leadership weekend on campus in collaboration with fellow Advancement staff members and the campus community.
Monitor budgets and operation of alumni relations, parent relations, and the annual fund.
Provide support to the Chief Advancement Officer for annual board meetings.
Assist at engagement and donor-related events, often on weeknights or weekends, and perform other duties as assigned.
In partnership with the Director of Advancement Services and Data Analytics, develop metrics with which to measure engagement progress.
Serve as a liaison with the Admission Office, meeting with alumni who bring their children for an interview.
Key Qualifications
Minimum of five to seven years of related work in advancement with increasing responsibility.
Track record of identification, cultivation and solicitation of individual donors.
Solid experience managing staff teams.
Demonstrated ability to analyze data, project-manage, plan, set strategies, and implement programs to increase engagement and annual fund participation.
Excellent verbal and written skills
Ability to work independently; excellent attention to detail required
Track record of engaging and managing volunteers charged with engagement and fundraising responsibilities.
Strong working knowledge of Microsoft Word, Excel, Google Drive/email programs.
Ability to work under a variety of conditions throughout the year during alumni and parent events, indoors and outdoors, on campus and off campus, often transporting supplies and audio-visual tech to various on-campus and off-campus locations.
Willingness to travel required. Ability to work nights and weekends as necessary; travel required in regional areas for annual events and donor visits.
Knowledge of Blackbaud fundraising platform preferred.
Bachelor's degree required.
Equal Opportunity Employer
St. Mark's School provides equal employment opportunities (EEO) to all employees and applicants for employment without regard to race, color, religion, national origin, gender, age, sex, sexual orientation, disability or genetics, and any other characteristic or status protected by law.
St. Mark's School seeks to cultivate a community that is safe, inclusive, and inspirational for each member of our community.
If you are interested in being considered for this search, please use the form below to submit your cover letter and resume in confidence.
Tracy Marshall
Senior Vice President, Principal
Development Guild DDI